Royal Security was established in 1986 by its founder Mr Sigamani Kupusamy. He started the company because he felt he could make a positive change in his community by taking matters into his own hands. He wanted to give people a chance to not only have a job but to be proud of what they were doing. More than 30 years later, Royal Security continues to grow under the current leadership, who have carried on the founder's legacy of always believing in and taking care of the people who have committed their careers to Royal Security.
Today, the company has developed into a well-organized and dynamic unit capable of providing exceptional service in the area of Security. This expertise and experience also allows Royal Security to provide customizable security solutions for any client. Clients have come to expect prompt and reliable service which has become synonymous with the Royal Security Brand and all clients islandwide are guaranteed total protection and a swift response.
OUR VISION
To inspire an industry and change lives
OUR MISSION
We strive to do everything with a desire to make a positive impact in the lives of those we serve and the people who are a part of us.
OUR VALUES – LEAP
LEADERSHIP
We want to create a culture where we have a chance to lead and to approach everything we do with Royal Security in mind as Leaders.
EXCELLENCE
We not only want to be good at what we do but to foster a culture of excellence where each individual seeks it and it encouraged by each Royalist.
ACTION
We are people of action, we live our values concretely.
PEOPLE
People are what drive Royal Security and are our most precious asset. We have to nurture each other to reach greater heights and have the greatest respect for each other.

Why Choose Royal Security
Our dedicated human resource and operations departments provide strong back-end support which includes intensive recruiting, screening and training.

Our Core Focus
Our security officers meet and exceed the client's expectations and requirements in terms of knowledge, attitude, abilities and skills.

Come and Join Us
Our best way to ensure the most reliable security is to put the best possible candidate for the job in the position.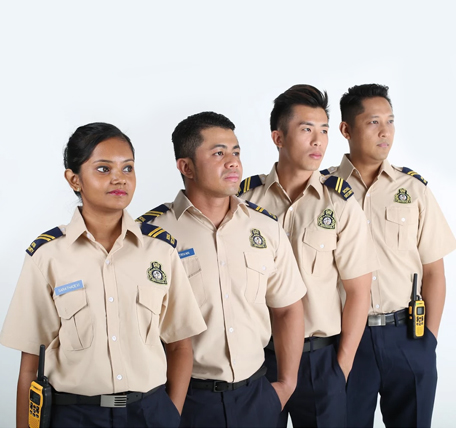 To put to good use the valuable knowledge and experience  of our security officers to provide value-added security services across the various industries and properties in order to give maximum satisfaction to our clients.
The Experts
Our Security Officers
As an award-winning Security Agency, Royal Security's growth has accelerated as a result of its commitment to quality and continuous development.